Many clients have asked me; what can be done with the jewellery I have had for many years and no longer wear. Could I remodel pieces that they have inherited from a loved one that do not fit them or suit their style? The answer is yes. In fact, I take great pleasure in the challenge of upcycling jewellery commissions. There's something deeply rewarding about breathing new life into something old. As well as the satisfaction of saving earth's resources by recycling precious metals and stones, I get to give sentimental but redundant jewellery a new purpose.
Why upcycle your jewellery?
The sentimental value of the jewellery could be greater to you than the value of the precious metal or stones

Many second-hand jewellers will give a cash value significantly less than the jewellery is worth 

To upcycle precious metals or stones means less mining for new resources, helping sustainability efforts on our planet

You might want to mark a new chapter in your life – some people upcycle their old wedding rings after a divorce or big life change
Ready for some inspiration? Here are five jewellery upcycling projects I've completed for my lovely clients…
1: Remodelling a sentimental diamond ring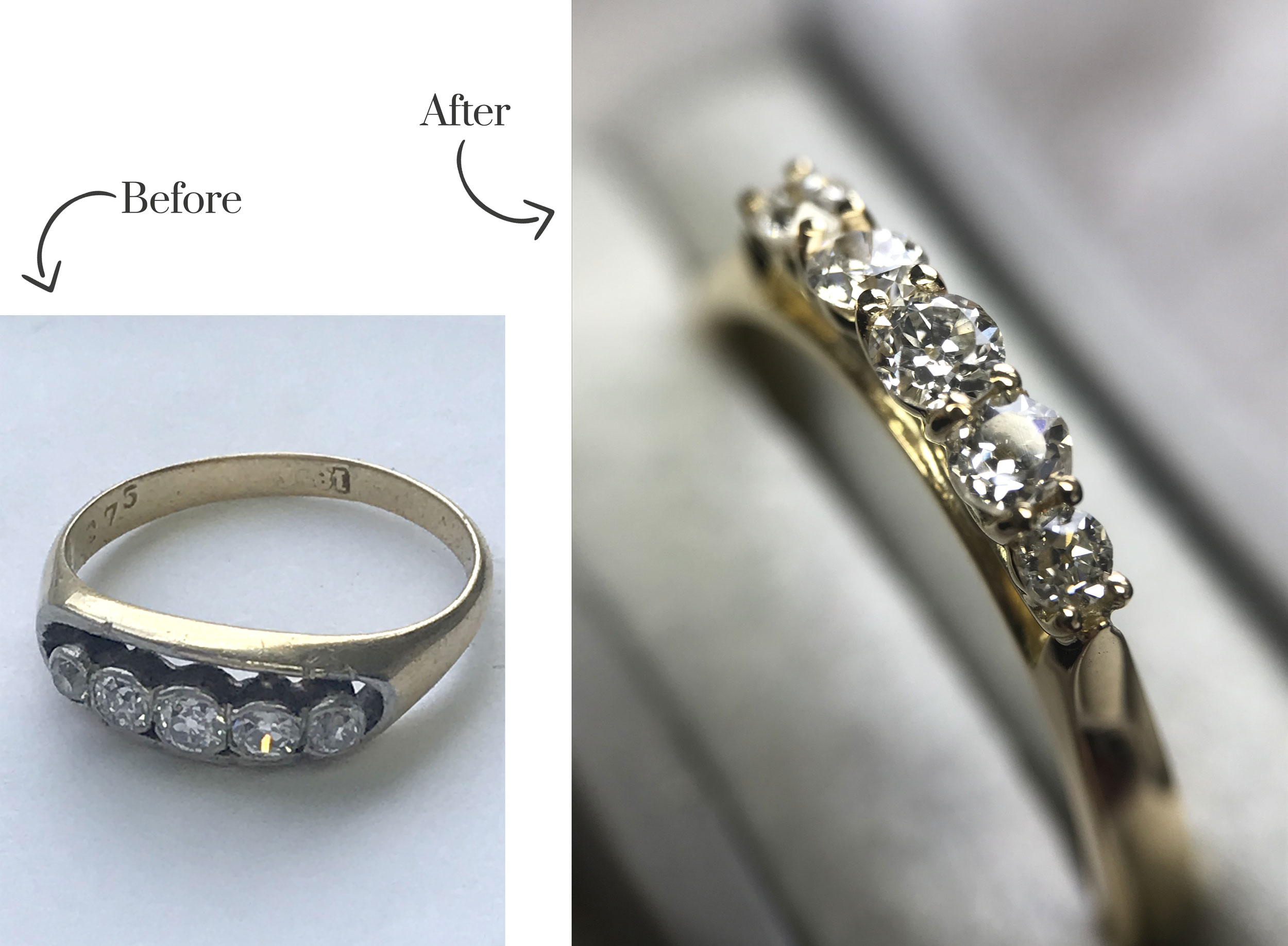 My client commissioned me to remodel her grandmother's diamond and gold ring into a beautiful new one for her granddaughter's 18th birthday. I removed the diamonds and created a new gold band to set them into. I find antique diamonds are often more special, there's something about the cut, so it's great to give them a new lease of life for the next generation.
2: Wedding rings remodelled into hoop earrings

A popular request is to take gemstones out of several rings and set them into one piece of jewellery. However, a more straightforward idea came to me when a customer showed me her deceased mother and grandmother's wedding rings which had been tucked away untouched for years. This customer was delighted when I suggested turning the rings into half hoop earrings as a way to keep hold of the sentiment. One pair for her and another for her daughter. I cut the rings in half and added stud posts to them to create simple and lightweight earrings. If in years to come the hoop earrings are no longer worn, I can make them into something else – even back into a wedding ring for her daughter. 
3: Remodelling a selection of rings into a newly designed diamond ring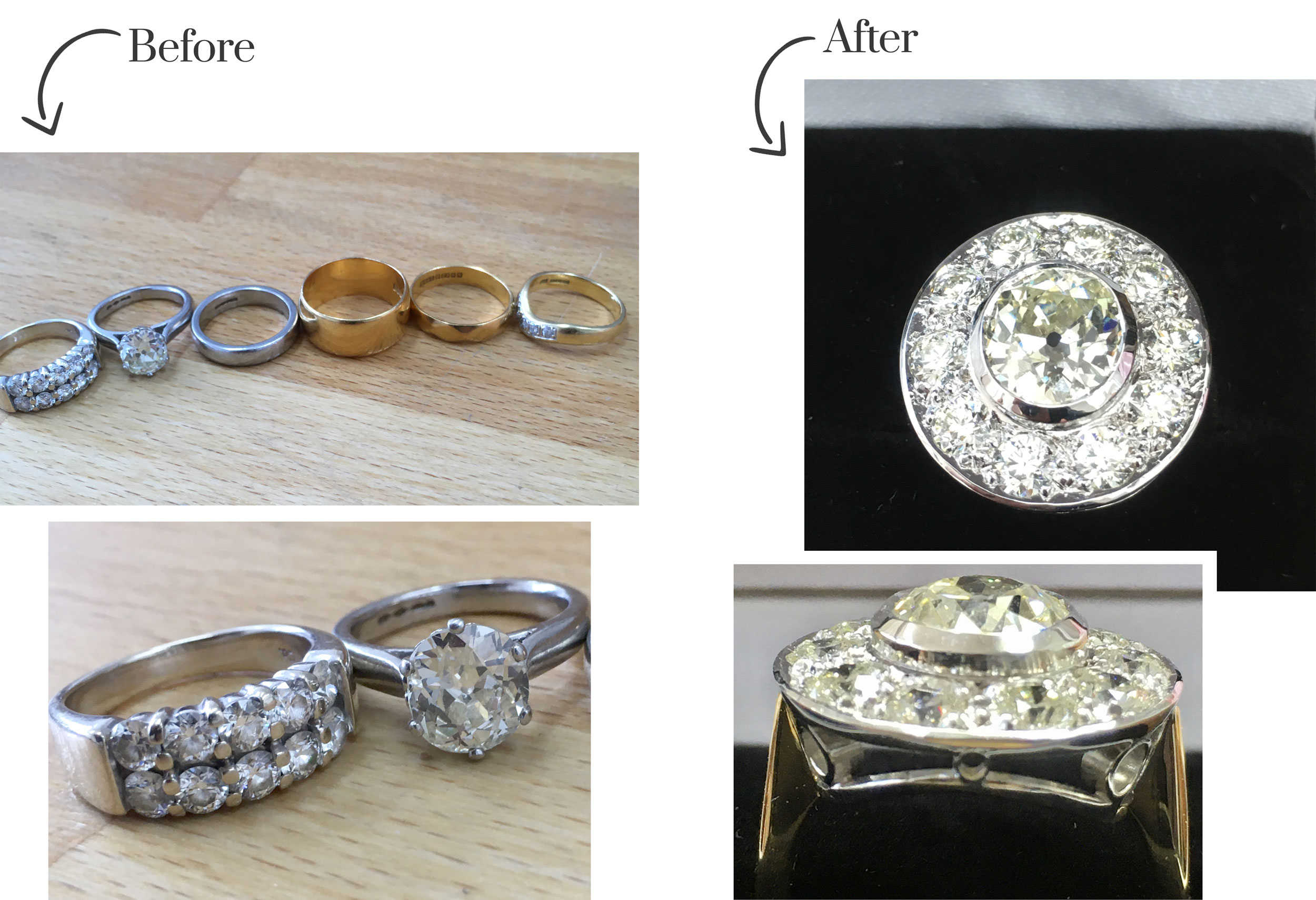 A popular request is to take gemstones out of several rings and set them into one piece of jewellery. This client came to me with six rings from her personal collection. She no longer wore these so was ready for me to create something special with the precious materials. I sold the yellow gold from  four of the rings, and used the proceeds to make a single 18-carat ring from the two white gold rings. Look carefully and you can see the large signet diamond surrounded by ten smaller diamonds in the final design.
4: Upcycling an Indian gold necklace into stud earrings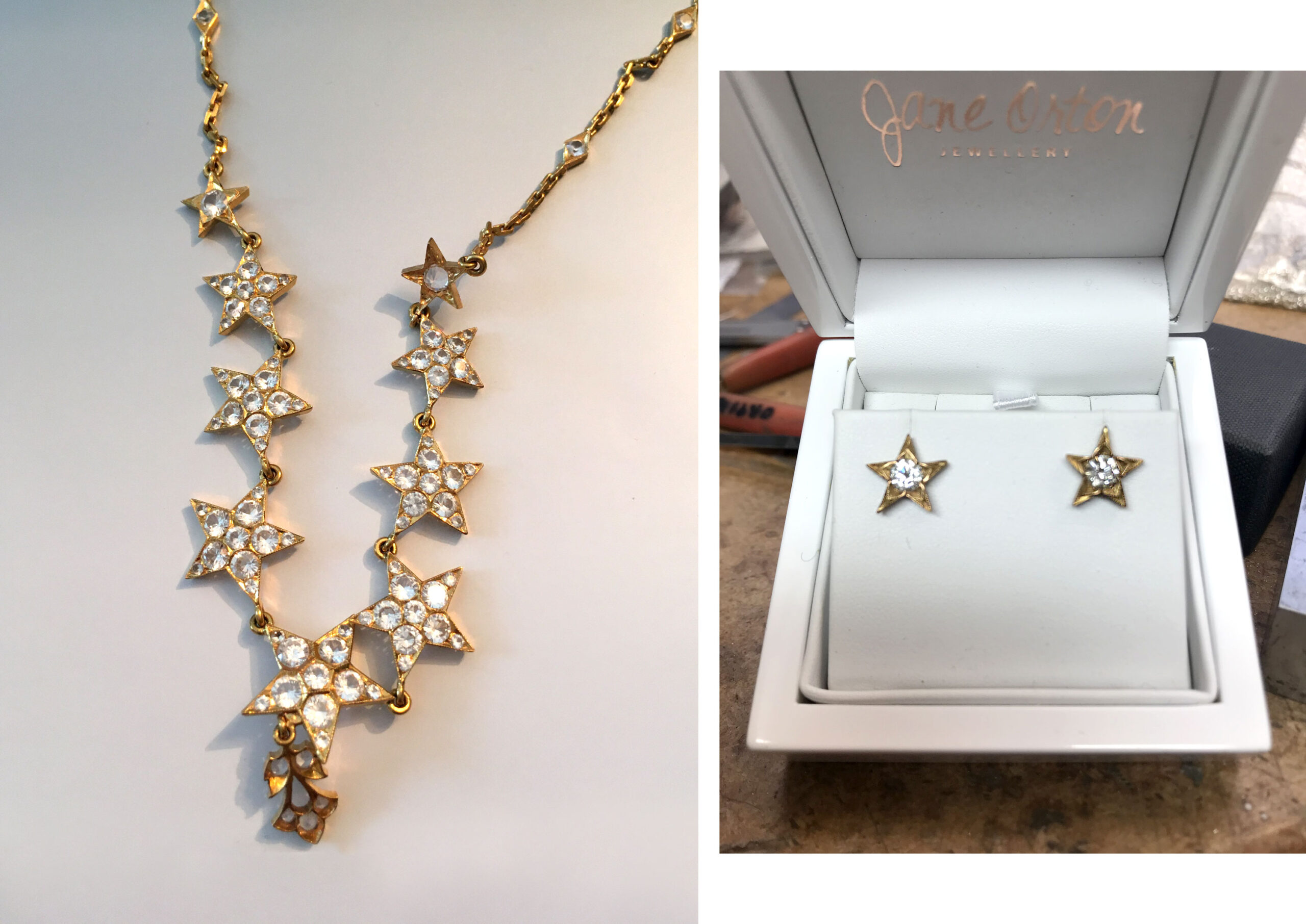 Another project I embarked on involved a lifetime collection of Indian gold jewellery. Some items had been passed down for generations but not worn, and some had been given to my client to wear at her wedding. Other pieces had been purchased a few years ago when styles were different. I turned this elaborate star necklace into earrings, replacing the simulated diamonds with Moissanite, which gives more sparkle than diamonds at less cost. I took two of the stars apart with screw fasteners and made them into stud earrings. 
5: Upcycling my own engagement ring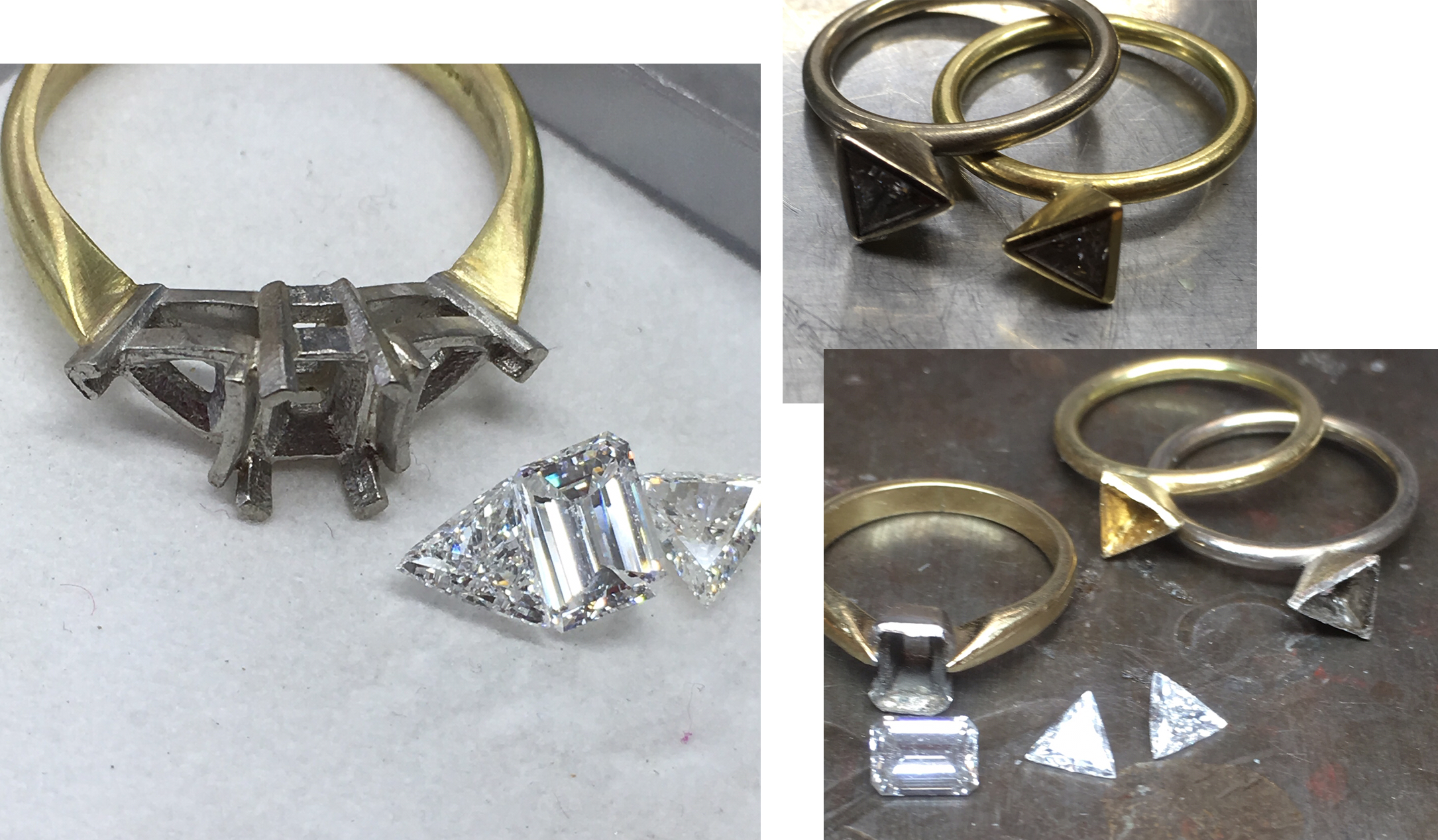 I have been heavily influenced by the renowned British ceramicist, jeweller and sculptor, Wendy Ramshaw, who created the stackable ring set for my fifth engagement ring. (See this blog post where I share why I have had six engagement rings from the same man!) The rings were beautiful, but I found stacking rings can be quite impractical, so eventually, I remodelled them into a single eternity ring. I created a lower setting, so it doesn't fall forward on my hand, and it is the ring I wear most of the time to this day.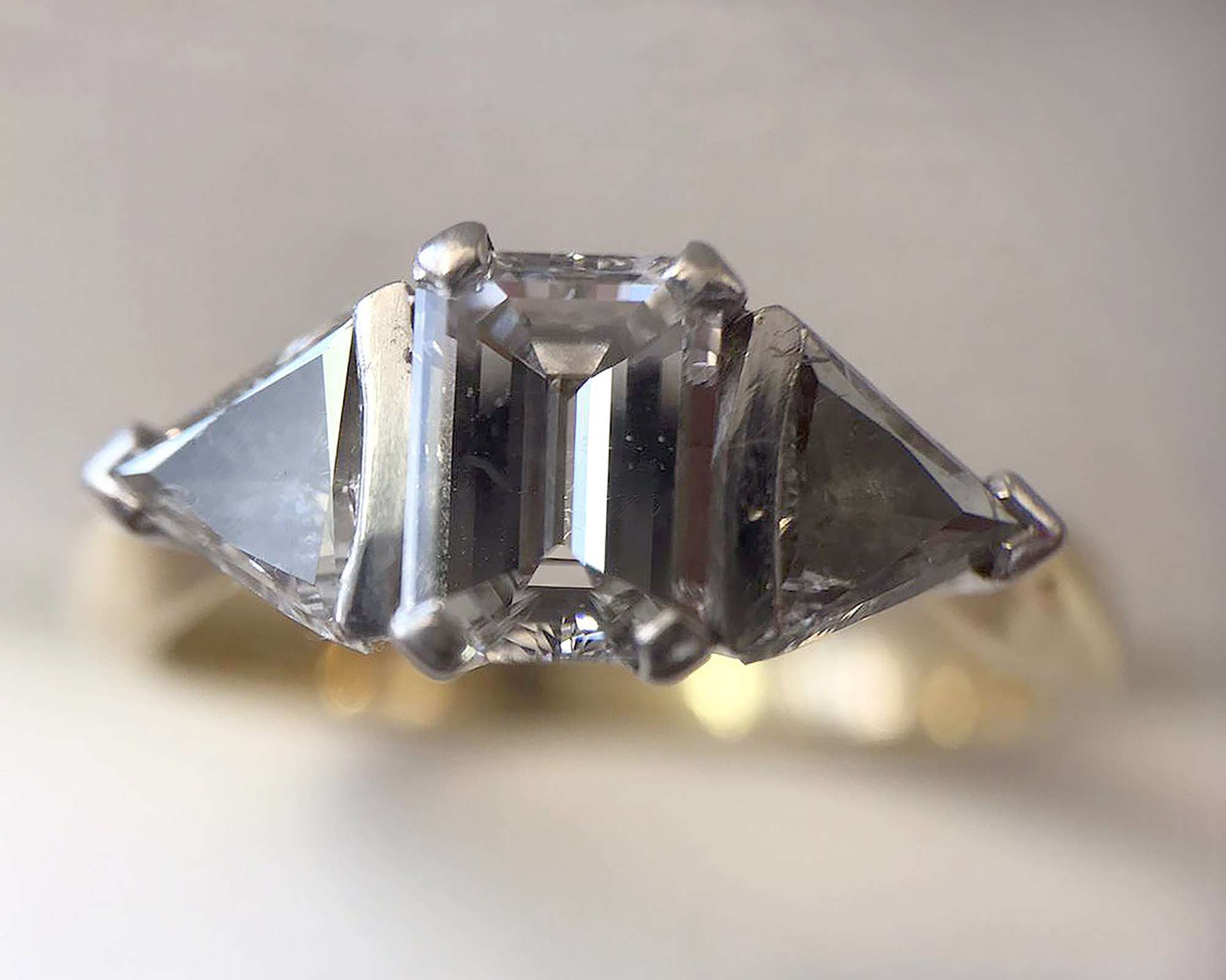 Behind every piece of jewellery is a story, and I'd love to help you tell yours! If you'd like a piece created from upcycled jewellery in my Derbyshire workshop, be it sentimental or dated, please get in touch with me to discuss your dream design…