Jewellery can tell our life stories. And perhaps there is none so telling than that described by an engagement ring — the universal symbol of love.
I've been making and loving jewellery for almost my entire life. Happily married to my husband for over three decades, it's safe to say my taste in men has stayed the same, while my taste in jewellery has evolved.
Throughout my 32 year marriage, I've owned six different engagement rings – and counting, for reasons of love, creativity, and practicality. While I'm still some way off Elizabeth Taylor's record, here's the six-chapter story of the engagement rings in my life.
Enter engagement ring number one…
When my husband and I got engaged, I excitedly commissioned my Aunt Norah to make the engagement ring, along with some matching cufflinks for my future husband.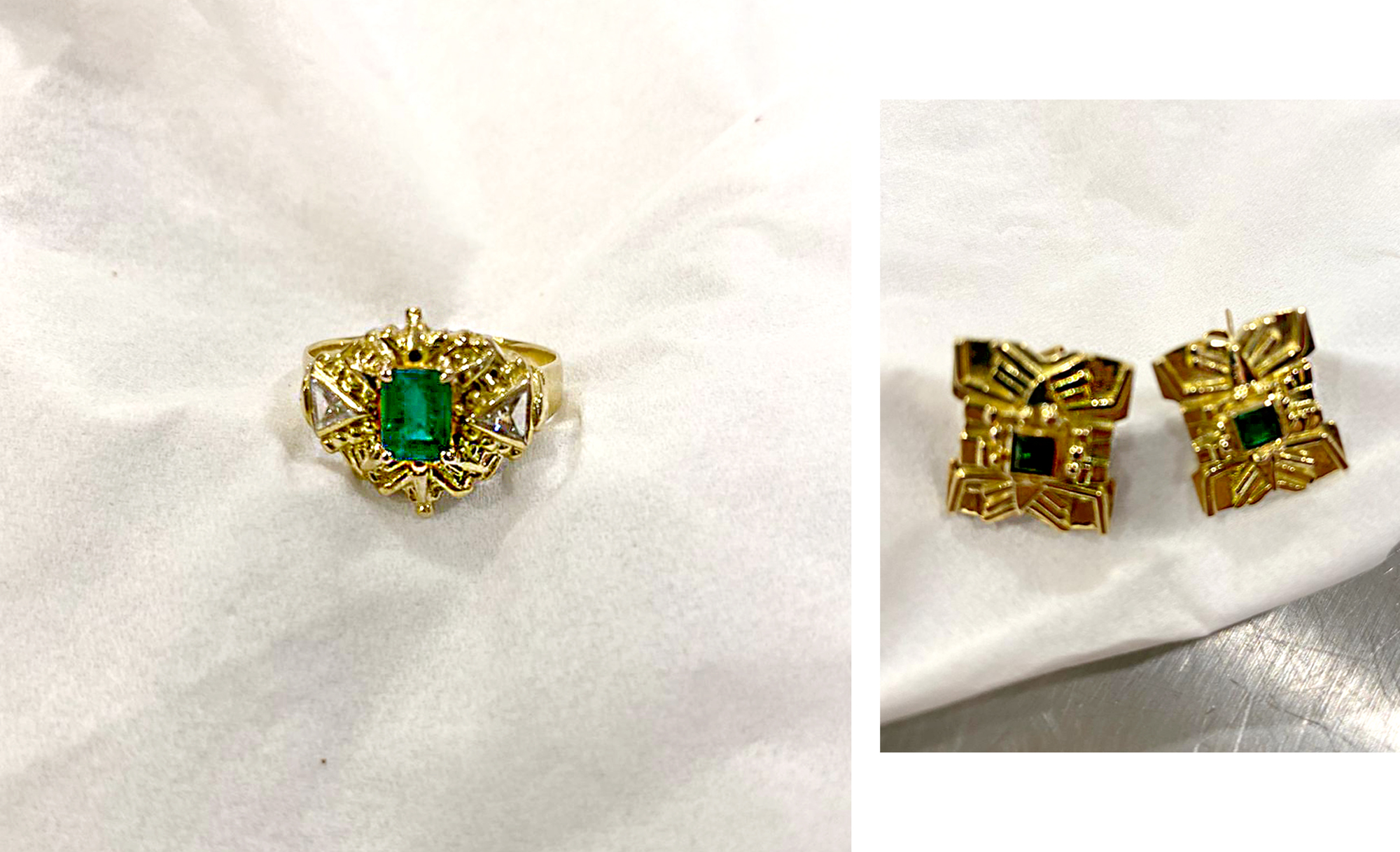 Aunt Norah was an art lecturer and hobby jeweller. Such was her talent that in the 1960s she was asked by the Art Director of the Worshipful Company of Goldsmiths, Graham Hughes whether he could commission her to make a piece of jewellery. Hughes is said to have created the post-war renaissance of British Silversmithing and jewellery, so this was not a run of the mill request for a commission!
John Donald, Andrew Grima and Garda Flickinger are some of the most famous silversmiths and jewellers we hear of today. They were commissioned by Hughes early in their careers too, at around the same time he spoke to my Aunt. The only difference is that they took him up on his offer.
Aunt Norah often talked of her regret that she didn't grasp that opportunity with both hands. Back then, a full-time Art lecturer, she felt she didn't have the time to take it on and blames my uncle for stopping her.
After my mother passed away when I was 15, I spent a lot of time with Aunty Norah. Her spirit is in my creativity. Her imagination was undoubtedly influential to my creative skills, so I still treasure a photocopy of the letter she received from Hughes, asking for some of her work.
I chose trillion-cut diamonds in triangles, my favourite shape, and a stunning emerald to go with them for my engagement band. People warned me that Emeralds are between 7 and 8 the Mohs hardness table. Essentially, unless you live as a princess who does very little with her hands, an emerald is likely to get bashed and destroyed performing household chores and gardening.
For me, that magnificent emerald was worth the risk!
Happy you asked: What is "Mohs scale of mineral hardness"? All rocks are made of one or more minerals. Named after a mineralogist called Friedrich Mohs, the Mohs scale categorises minerals in order of hardness, based on which minerals can scratch other minerals. According to the Mohs scale, Talc is the softest (all other minerals can scratch it) and Diamond is the hardest. 
I was enchanted when my Aunt completed the engagement ring, wedding band and cufflinks. The design was creative, unique, and it felt deeply personal, knowing her own hands had made it.
Approximately three weeks after our wedding, Aunt Norah asked whether she could borrow the engagement ring and cufflinks to show a friend. We handed them over, happy to share the joy of our extraordinary pieces.
I have never seen them since. Luckily I've found photographs!
My Aunt's impulsive inner artist seemed to have taken over, and she decided she had put too much work into making them, to give them back to us.
Can you imagine my grief? I was distraught. She returned our money and didn't speak to me for years afterwards.
Other family members had warned me about the risks of letting Aunt Norah make the ring. I have no regrets, though. I put my faith into the woman who inspired me to live a creative life doing what I love, making jewellery.
Although engagement ring number one didn't give me a lifetime, it gave me a story.
It also gave me a reason to move onto engagement ring number two…
Engagement Ring Two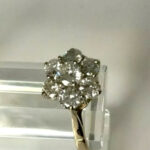 My husband is a traditional man, and he was adamant; I should not be without a ring. In those days he worked in an office opposite Cole Brothers department store in Sheffield (John Lewis) where they had a second-hand jewellery counter.
We found a traditional ring there with 7 x 2mm diamonds. It looked a little like a daisy, with a diamond in the middle and the others surrounding it. Second-hand jewellery is always cheaper than brand new jewellery, just as a second-hand car is cheaper, so we made the purchase. This ring remained on my finger for years, and the fact that it was different from the first helped to block out my loss a little!
Engagement Ring Three
After about ten years of marriage, my husband offered to buy me a new ring of my choice in one of his softer moments. He had always felt sad about what happened with the first ring and had thought of ring number two as a temporary measure.
By now, my knowledge of gemstones and diamonds had increased. I knew exactly what to look for in a stone and purchased another second-hand ring at auction. It had good diamonds, including trillion cut ones as in the original ring, but the stones were badly set.
I had only just started on my silversmithing journey at the time, so I did not even know where to start in terms of remodelling it. I asked a silversmithing friend to reset the stones for me, and that's how engagement ring number four was born.
Engagement Ring Four
I was delighted with ring three. One day I had an accident and the heavy lid of an ottoman used as a laundry basket fell on my hand. The good news is that my diamonds caught the brunt of it and I avoided what could have been a nasty injury!
I was so fond of the now severely damaged ring that I had it remade. And that's how ring four, became ring five.
Engagement Ring Five
In the years that followed, I became heavily influenced by the renowned British ceramicist, jeweller and sculptor, Wendy Ramshaw. She created the ultimate stackable ring sets, and I chose one of her designs for my fifth ring.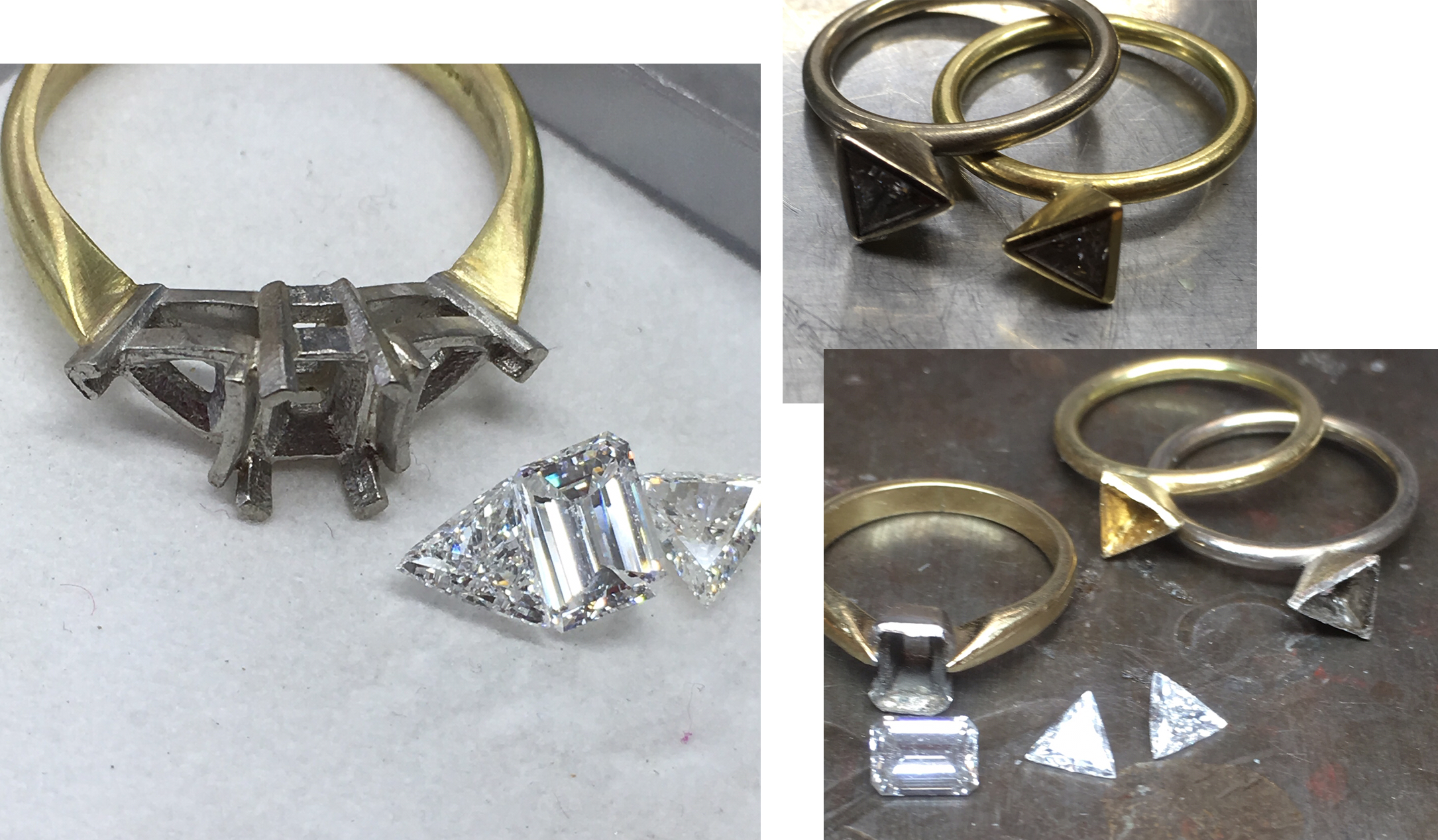 Having become the mother of three lively boys meant I couldn't focus on making a firm decision on one ring, so I chose a beautiful stackable ring (made up of five separate rings).
The rings were a mixture of yellow and white gold rings. I used the three stones I already had from ring four, adding one round Sapphire in white gold and a Ruby in yellow gold.
After our three children and many happy years together, this design for ring number five was my way of adding an eternity ring element. I had a ring for all occasions and to match any outfit!
I wore these stacking rings for many happy years, but never more than one at once! No matter how beautiful, I found stacking rings can be quite uncomfortable, especially when it's hot!
Cue the final (and current) ring…
Engagement Ring Six
Engagement ring six is the version I wear now and has prevailed for about four years. It's almost the same as ring three, but with a couple of practical enhancements. I created a lower setting, so it doesn't fall forward on the hand, and it also fits nicely into gloves. It's much more practical and comfortable to wear.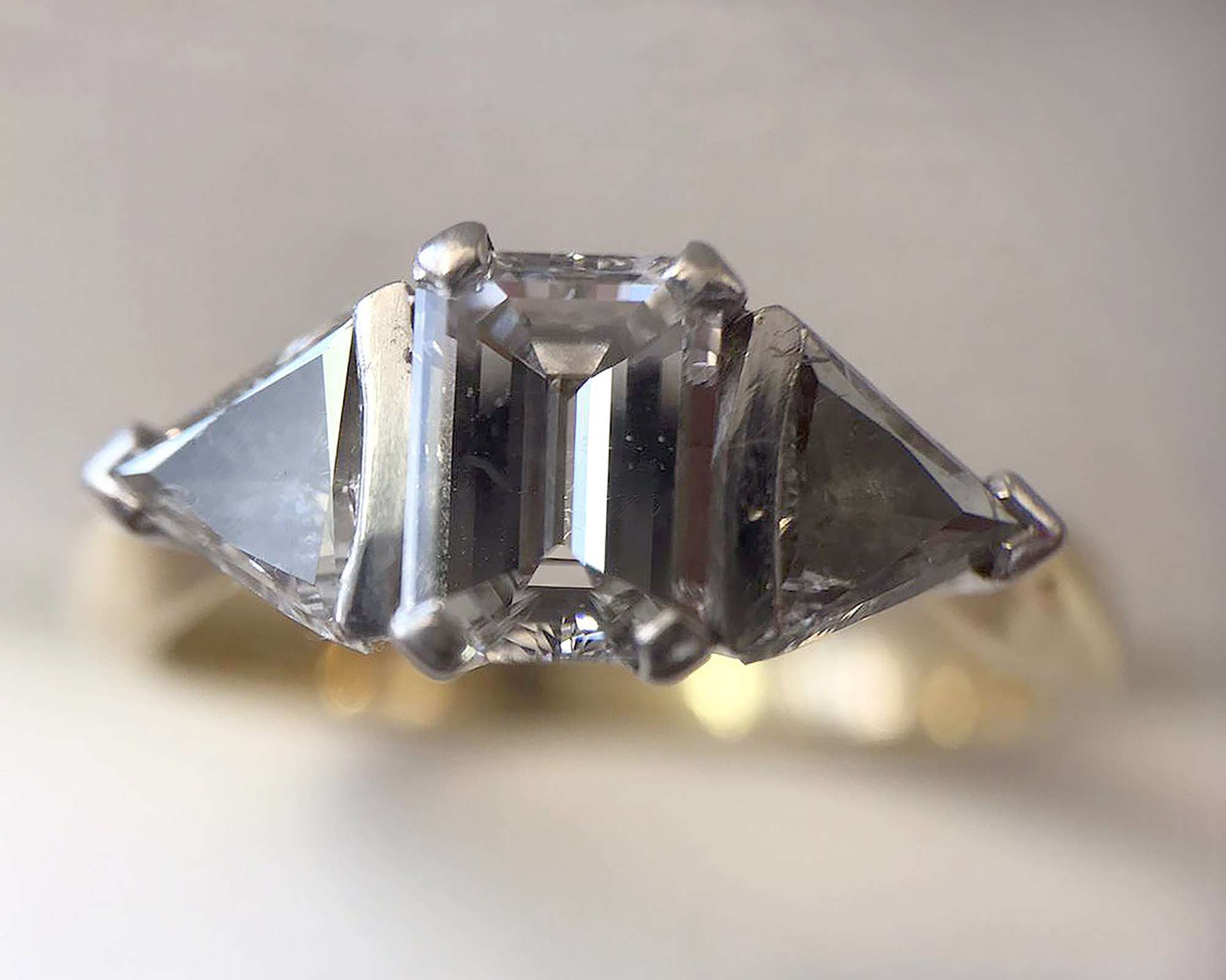 I didn't tell my husband what I had done, and it didn't cost us anything as I used all the same materials. He noticed after about a month when we were having dinner on holiday. He took it with good humour and asked how many more versions I would makeover in my lifetime!
I also confessed that I had added gold to my wedding band to thicken it, as it had worn thin after over 30 years. It means a lot to us that the original gold is still there. Despite my evolving engagement ring game, my wedding ring is still the same as we exchanged on our wedding day.
My six ringed story's moral is that it's essential to think about practicality when you're choosing the perfect engagement ring. Whether that's in terms of being careful about who makes it or making sure it's durable enough for your daily life.
Behind every piece of jewellery is a story.
In my case, these rings speak of love, marriage, family, children and everything in between. As life has happened, I feel fortunate to have been able to meld together my jewellery and stories, using stones and metals recycled from previous rings to build upon over the years. There's something so deeply satisfying about using something old to create something new.
If you'd like a piece created from upcycled jewellery, be it sentimental or dated, please get in touch with me to discuss your dream design!