I'm so excited to share with you my new handmade Alpaca charm jewellery. I have often taken inspiration for my designs from the flora and fauna surrounding me at home in rural Derbyshire, and it is no different for this collection. The fun jewellery range is modelled on two very special alpacas belonging to my friend and neighbour. 
Teddy & Crumpet the Alpacas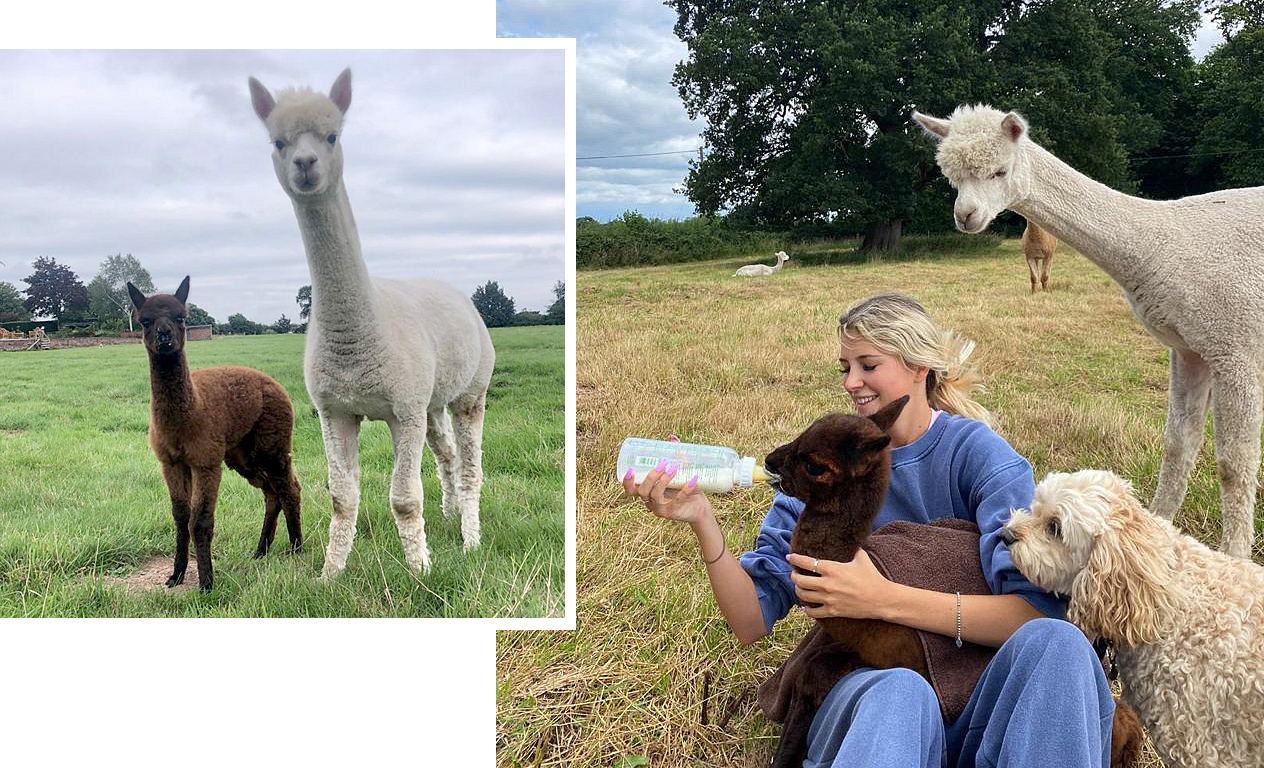 Morning walks in Ashbourne with my friend often involve feeding her pet alpacas. One day a pregnant alpaca named Crumpet gave birth to a very cute baby boy who was aptly named Teddy. Sadly Crumpet died of cancer soon after becoming a mother, and Teddy became an orphan. My friend and her daughter proceeded to bottle-feed him a few times a day for many months. The silver lining of the tragic loss of Crumpet was that a close bond was formed with Teddy and his humans, and he became a remarkably tame and loving alpaca. This relationship inspired me to create models of Teddy and Crumpet and to cast them in sterling silver. I had wax figurines made from a photograph which became the masters for my Alpaca jewellery range.
The collection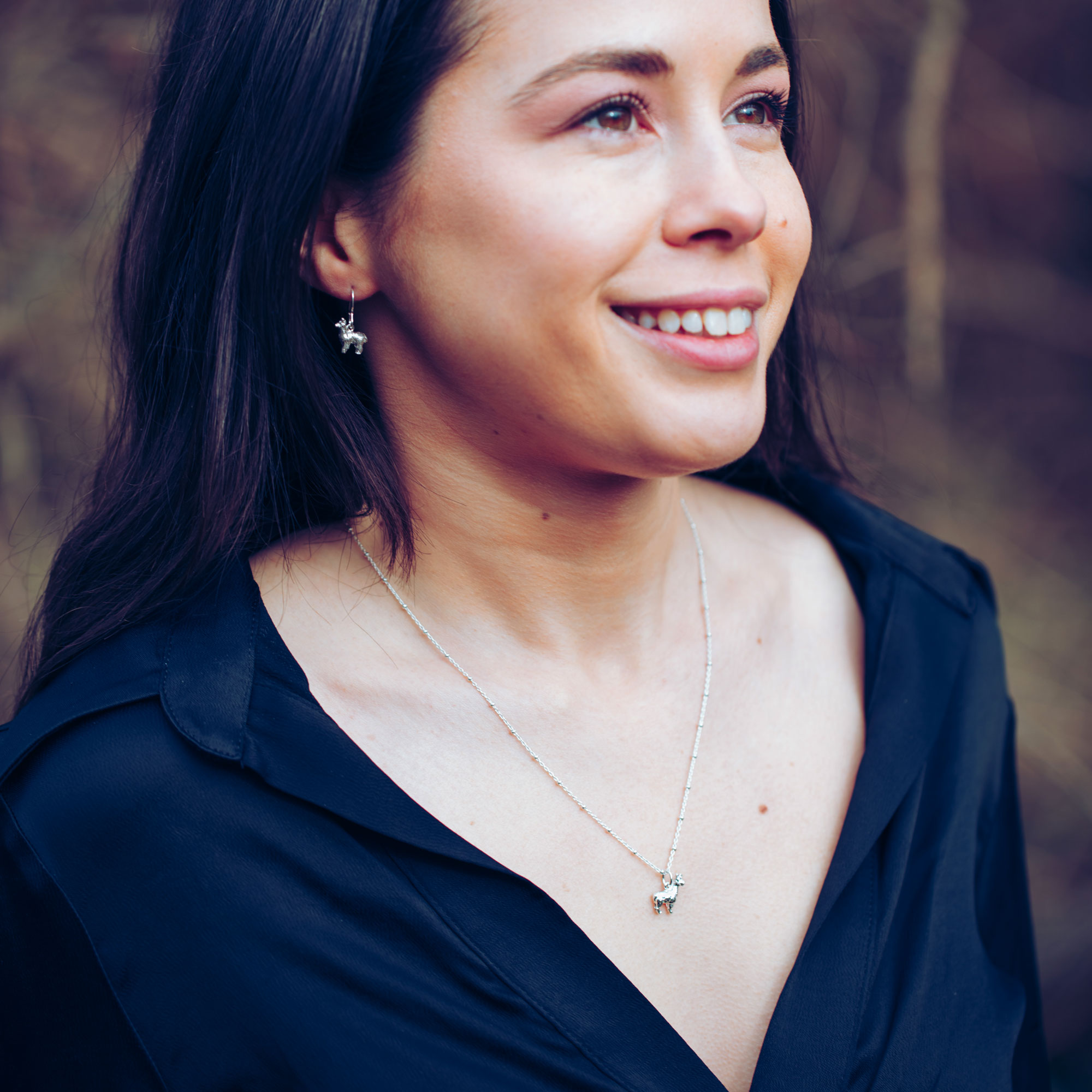 The alpaca collection includes three delightful sterling silver pieces, all lovingly handmade from ethically sourced sterling silver in my Derbyshire jewellery workshop. These pieces make the perfect gifts for alpaca fans and nature lovers alike.
Alpaca Sterling Silver Handmade Pendant Charm Necklace
The alpaca pendant is 11mm wide and 13mm long. It comes complete and ready to wear with an on-trend sterling silver fine-beaded satellite chain. The chain length is 45cm. Every element of the necklace is made from recycled sterling silver 925 and can also be produced in gold on request.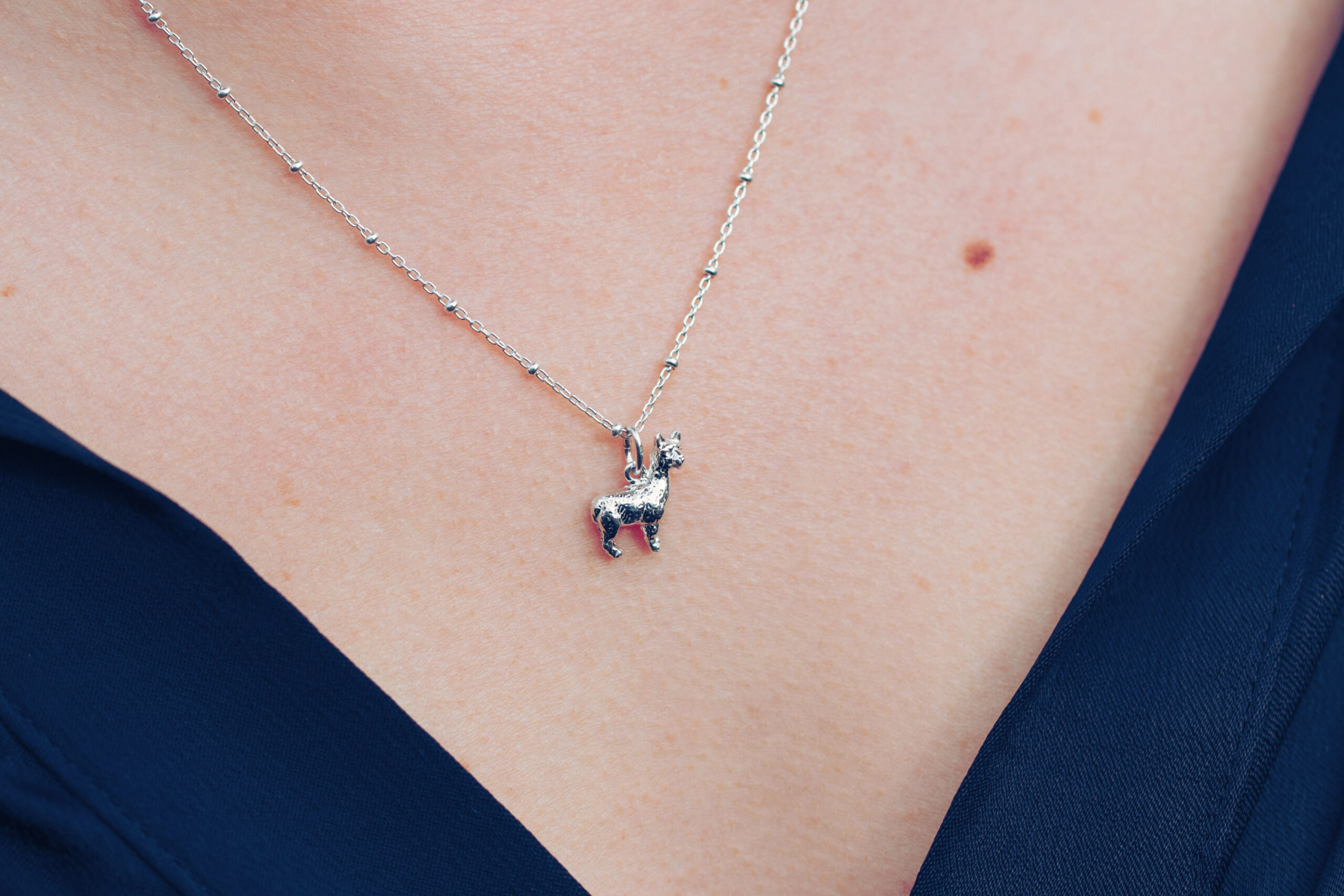 Alpaca Sterling Silver Stud Handmade Earrings
These handmade alpaca stud earrings are 11mm wide. They're made from recycled sterling silver 925 and can be produced in gold on request.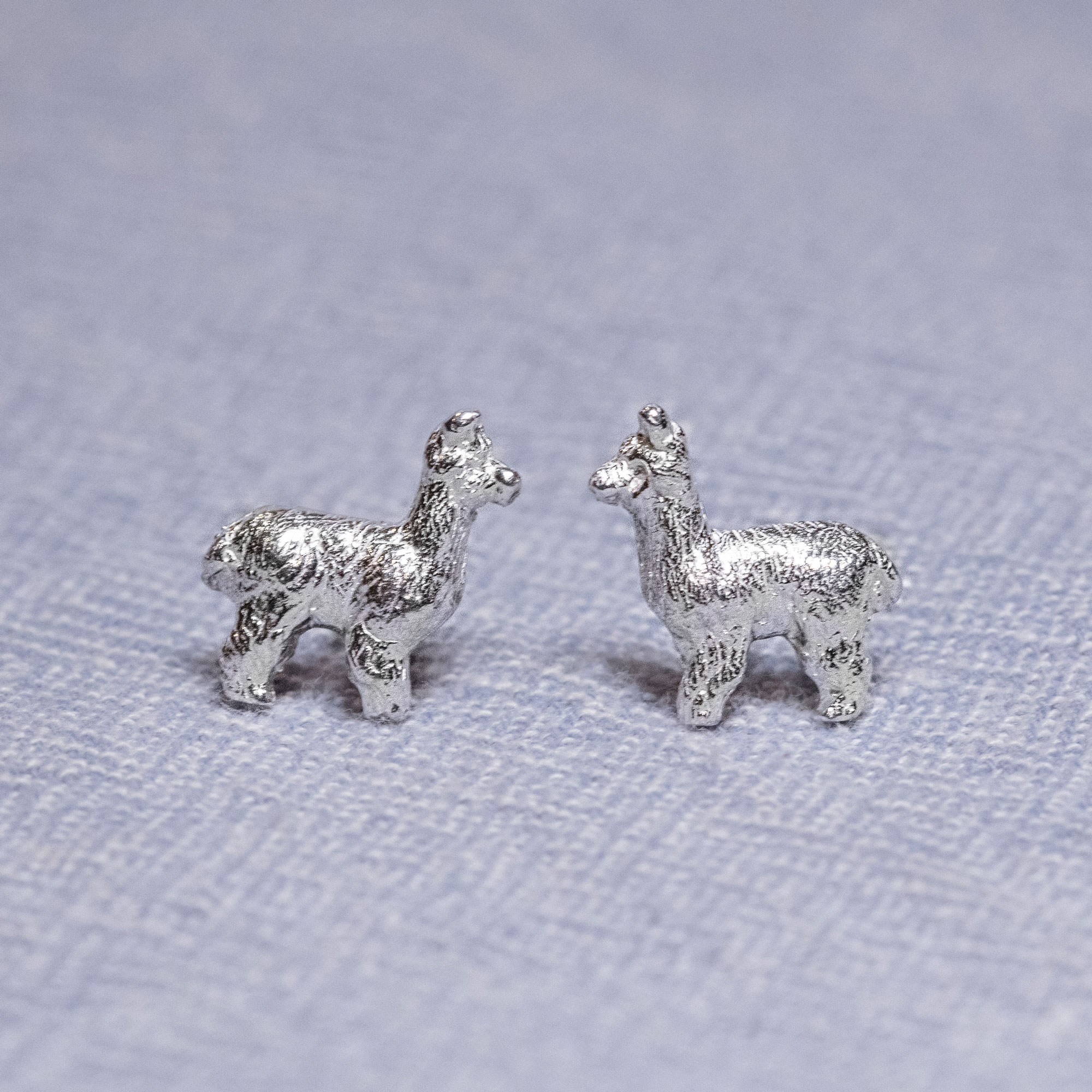 Alpaca Sterling Silver Drop Dangle Handmade Earrings
My alpaca drop dangle earring are 11mm wide with a 13mm drop. They're made from recycled sterling silver 925 and as always, can be produced in gold on request.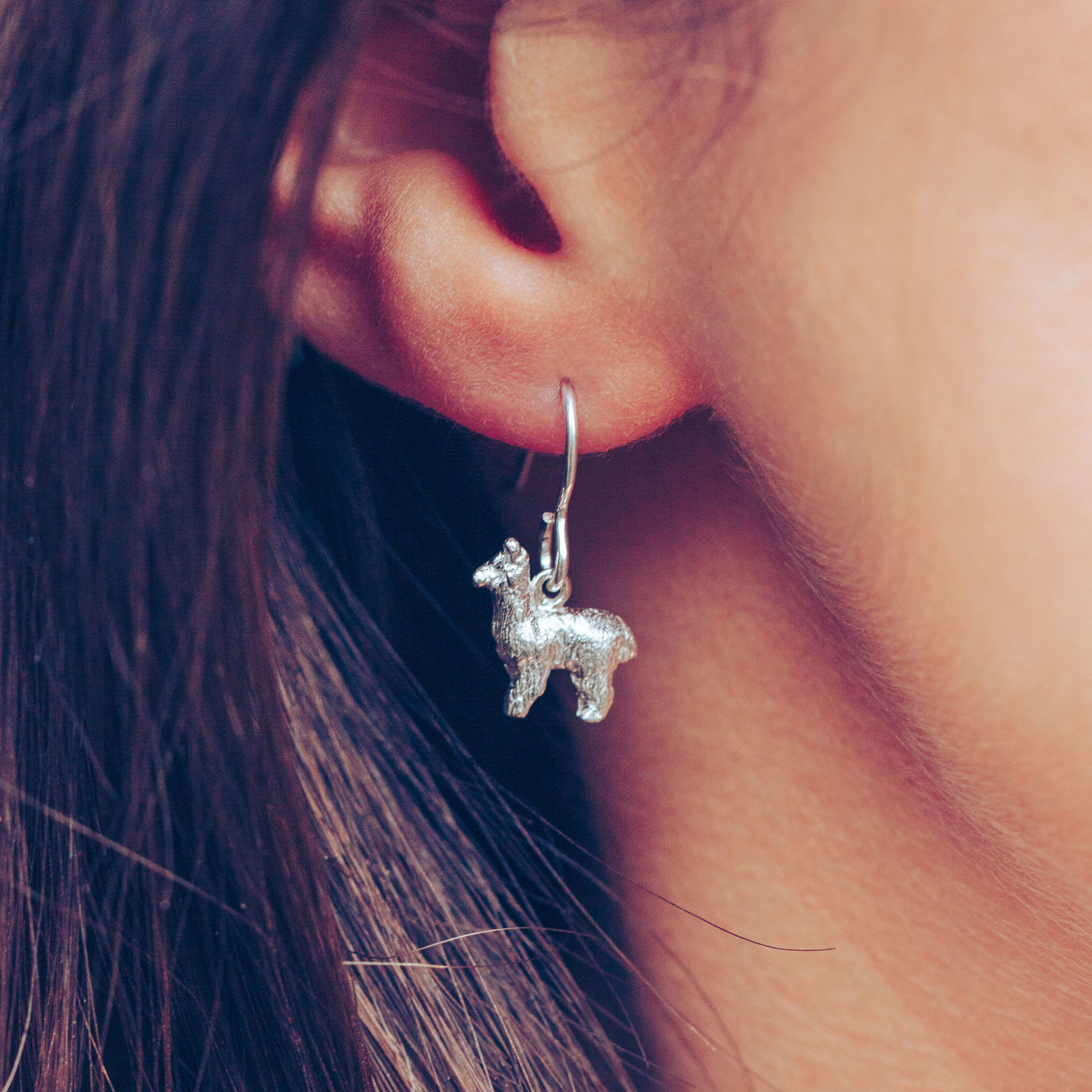 View and shop my alpaca jewellery collection
About Jane Orton Jewellery:
Jane Orton designs and creates sterling silver statement jewellery. Contemporary designs
with traditional accents.
Each of Jane Orton's designs are unique and lovingly made using traditional techniques in
her rural Derbyshire workshop.
Jane Orton is committed to sustainability. All pieces are handmade with ethically sourced
or recycled silver and stones, using low waste processes.
View Jane Orton Jewellery store